Your partner around metal
Our performance is based on the requirements and trust of our customers, a partnership with suppliers and the appreciation of our motivated employees.
Flexibility, dynamism, motivation, precision and innovative ability form the most important cornerstones of Brütsch/Rüegger Metals, alongside customer orientation, maximum product availability and above-average product and service quality.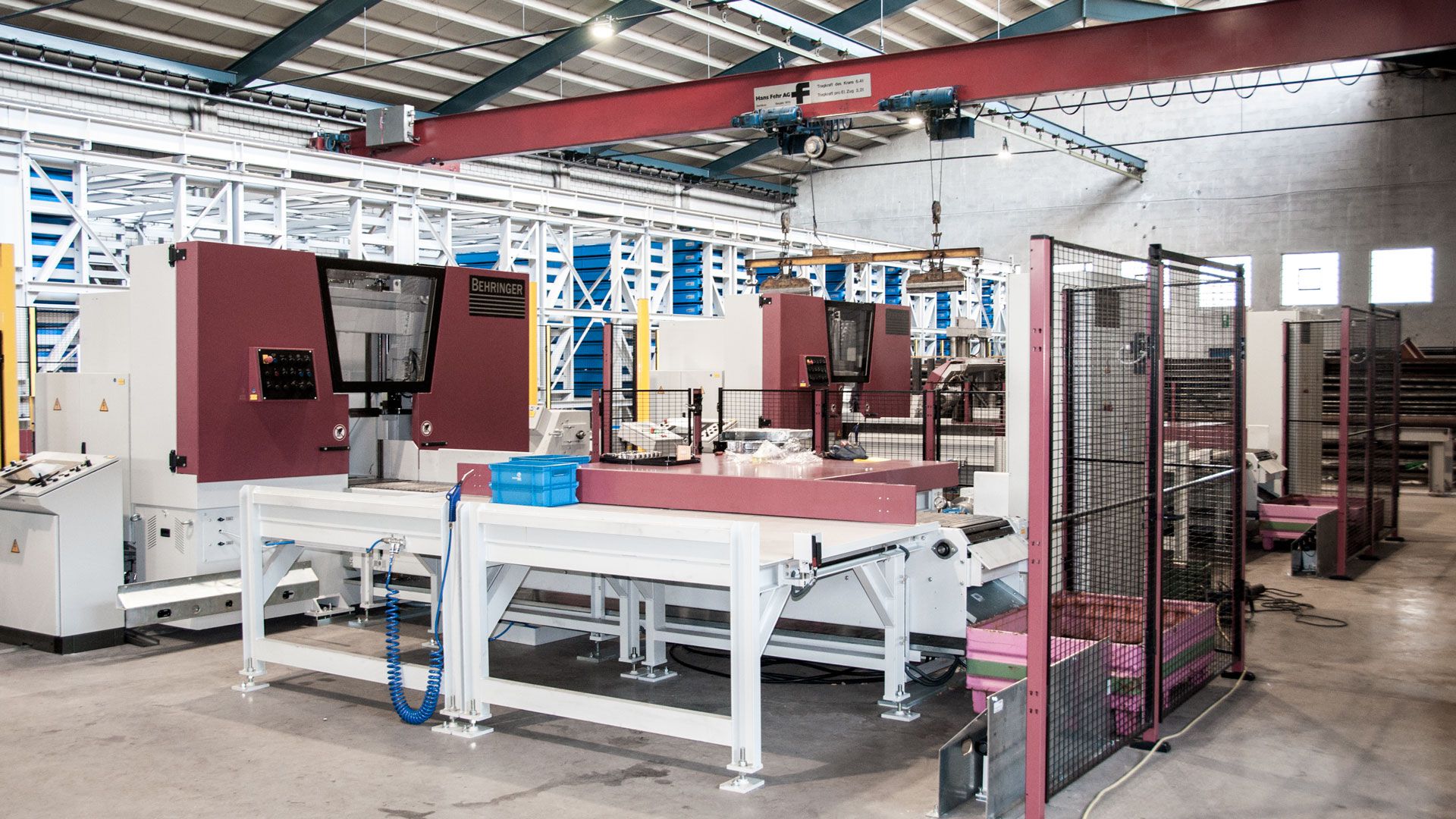 Quality and Innovation
Brütsch/Rüegger Metals is your full-range supplier of long products for precision steel tubes, thick wall tubes, bar steel, bright steel, stainless steel, tool steel, cylinder tubes / piston rods / piston tubes, bimetal, grinded shafts, shaped tubes, hollow sections, welded tubes, Hardox® tubes, Non-ferrous metal and stainless steel.
Numerous services in the pre-processing and prefabrication sector as well as an efficient logistics concept make us a strategic partner in your value chain.
Our long tradition
As a family-owned company in its fourth generation, we pursue a sustainable and long-term corporate policy by tradition and actively meet the challenges of globalization with a pronounced innovative strength.
Since 1877, trust, honesty, mutual esteem and respectful dealings have characterized our cooperation with employees and our business relationships with customers and suppliers.
Integrity, social awareness and a responsible ethical, moral and ecological attitude are the foundation of our relationships with all stakeholders and are more important to us than short-term success.
Chronicle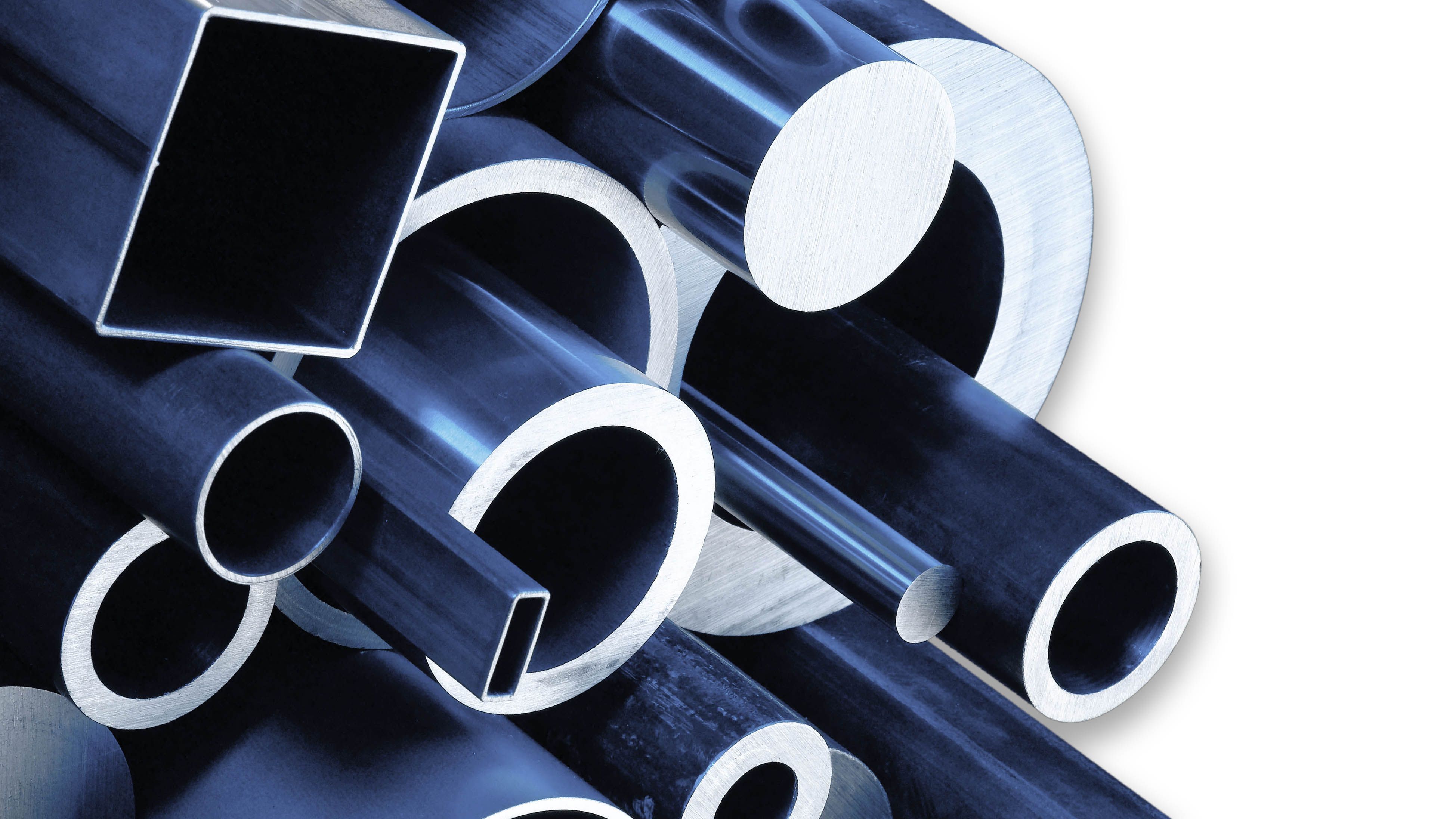 Traditional foundation
Market leadership in the product groups: 
Seamless precision and thick wall tubes
Piston rods and cylinder and piston tubes
2007
Introduction of our «Components» process ,
versatile value based on our material competence
2009
Whether hot rolled, drawn or peeled, bar- and bright steel in all its variations:
Round
Flat, Ready Flat, square and haxagon
U - / T - Profiles
Angles
Coulisses
2011
Quality round steel or special structural steel in various grades:
Fine-grained structural steels
Alloyed quenched and tempered steels
Case-hardening steels
Nitriding steels
Rolling bearing steels
Structural steels
Pressure vessel steels
2012
Flame cut parts
Economical production of metal blanks
2013
Individual special profiles according to your requirements
2014
Tool steel
Tool steel
Cold-work steels
Hot-work steels
Plastic mould steels
High-speed steels
2015
Hardened/ground shafts in combination with BIMETALL plain bearing tubes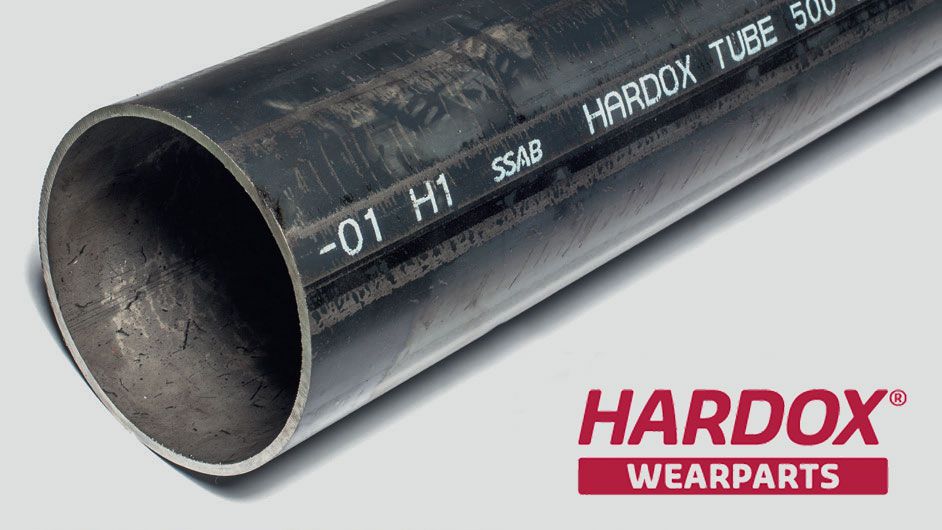 2017
Quality Management according to ISO 9001-2015 - Through constant optimization of our processes, we were able to successfully pass the recertification according to the new standard.
2018
As an industry pioneer for shop solutions in the steel and metal trade, we are once again setting new standards with the launch of the progressive Metalshop. The completely renewed platform offers numerous new functions:
Product finder with filter functions
Extended final dimension calculator
extended article configuration
2019
expansion of product range
stainless steel
Aluminium
brass
2020
Exclusive distribution partnership with Kugler Bimetal SA
Knowing our strengths, Kugler has chosen us as their exclusive distribution partner for bimetal tubes. These can now be purchased directly from our warehouse.
2021
In line with our motto metals at your service, the procurement process has been further simplified for our customers. The metalshop now offers the following functions:
Order management / open positions
Offer management
Account statement
Already ordered articles
Product comparison and watch list
Display of storage lenght
Chronik Brütsch/Rüegger
The file cutter Eduard Wetzel founds his business in Wädenswil.
Gottfried Brütsch joins the business.
Relocation of operations from Wädenswil to Seidengasse in Zürich. (The business now also produces seamless precision steel tubes, which were invented by the Mannesmann brothers in 1886)
Eduard Wetzel buys the business house Löwenstrasse 53 in Zürich.
Sale of the business to Gottfried Brütsch-Treuberg, Gottfried Rüegger-Herbster and Julius Koch-Schoeffter, who found the company Brütsch & Co.
Brütsch & Co. buys the property Löwenstrasse 53 from Eduard Wetzel.
Gottfried Rüegger Jr. joins the company. At this time, the range of tools still consists of horseshoeing and Wagner tools instead of car tools. Two Roch calipers are also in stock and the company owners are seriously worried whether these expensive tools can be sold one day!
In June there is a flood disaster and the Sihl and the Schanzengraben carry so much water that our magazine on Löwenstrasse is flooded. The most important event this year, however, is that in the front building, which so far has only rental apartments, a large store with two adjoining office space can be established.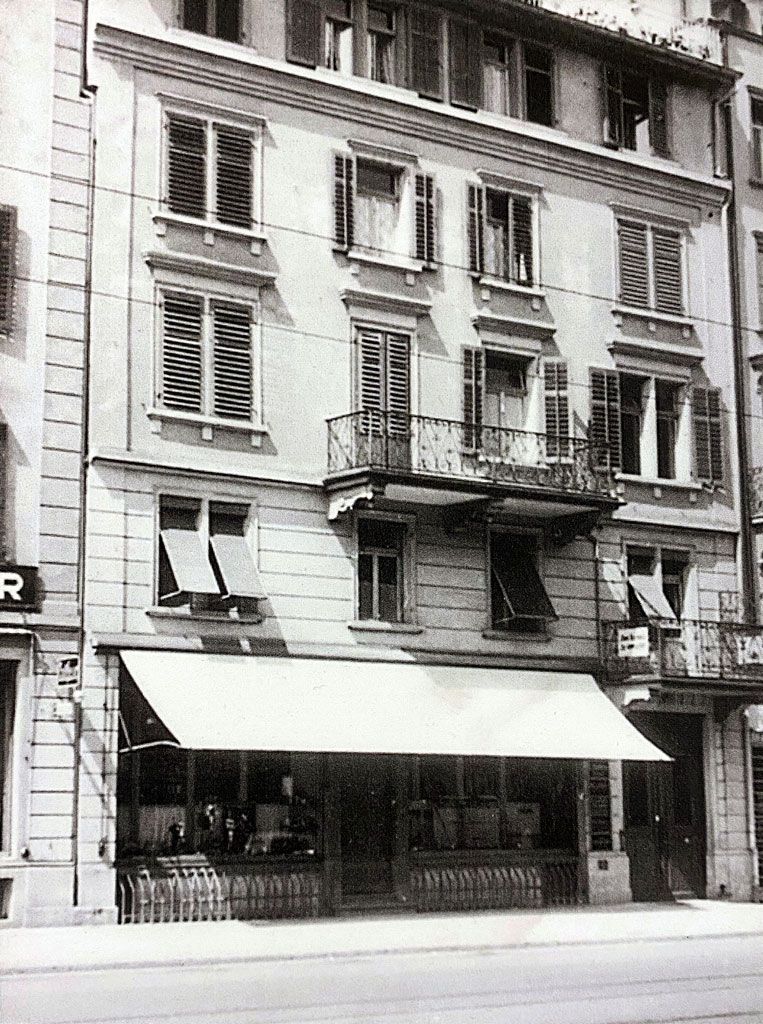 The owners of the company acquire the properties Limmatstrasse 48/50 to set up warehouses in the transverse building and in former horse stables, mainly for steel pipes, as this branch is undergoing a major expansion.
After the three partners Gottfried Brütsch, Gottfried Rüegger sen. and Julius Koch had worked together successfully for 20 years, Gottfried Rüegger sen. dies. His son and previous authorized signatory of the company, Gottfried Rüegger-Koch, became a partner.
In December, Gottfried Brütsch-Treuberg dies. His son Ernst Brütsch is called back from Africa and joins the company on April 1, 1930.
The company Brütsch & Co. changes the name to Brütsch, Rüegger + Co.
The trade and stockpiling of hot-rolled strong-walled steel tubes is started. Various producers fight for market share, which has a favorable effect on prices. Until the devaluation of the Swiss franc in the fall of 1936, such steel tubes can be purchased at 21 centimes per kilo!
Margrit Rüegger, the daughter of Gottfried Rüegger Jr. joins the company. In July, the partner Julius Koch dies. His daughter Margarete Rüegger-Koch, wife of Gottfried Rüegger-Koch, becomes a partner in his place. Acquisition of the neighboring property Gessnerallee.
On September 1, 1939, Hitler's tanks invade Poland, on September 2, the Federal Council orders general mobilization, and the employees called up for active service cannot be replaced. Therefore, Gottfried Rüegger takes his son Julius into the business in September 1939. The following 5 years of World War II also bring untold difficulties to our company and represent a great challenge and test for the company. Thanks to good personal relationships to the supply factories, it succeeds at least, the supply für our clientele with partly very scarce materials until the end of the war in 1945 to some extent ensure.
Steel tube department and tooling department become independent business units.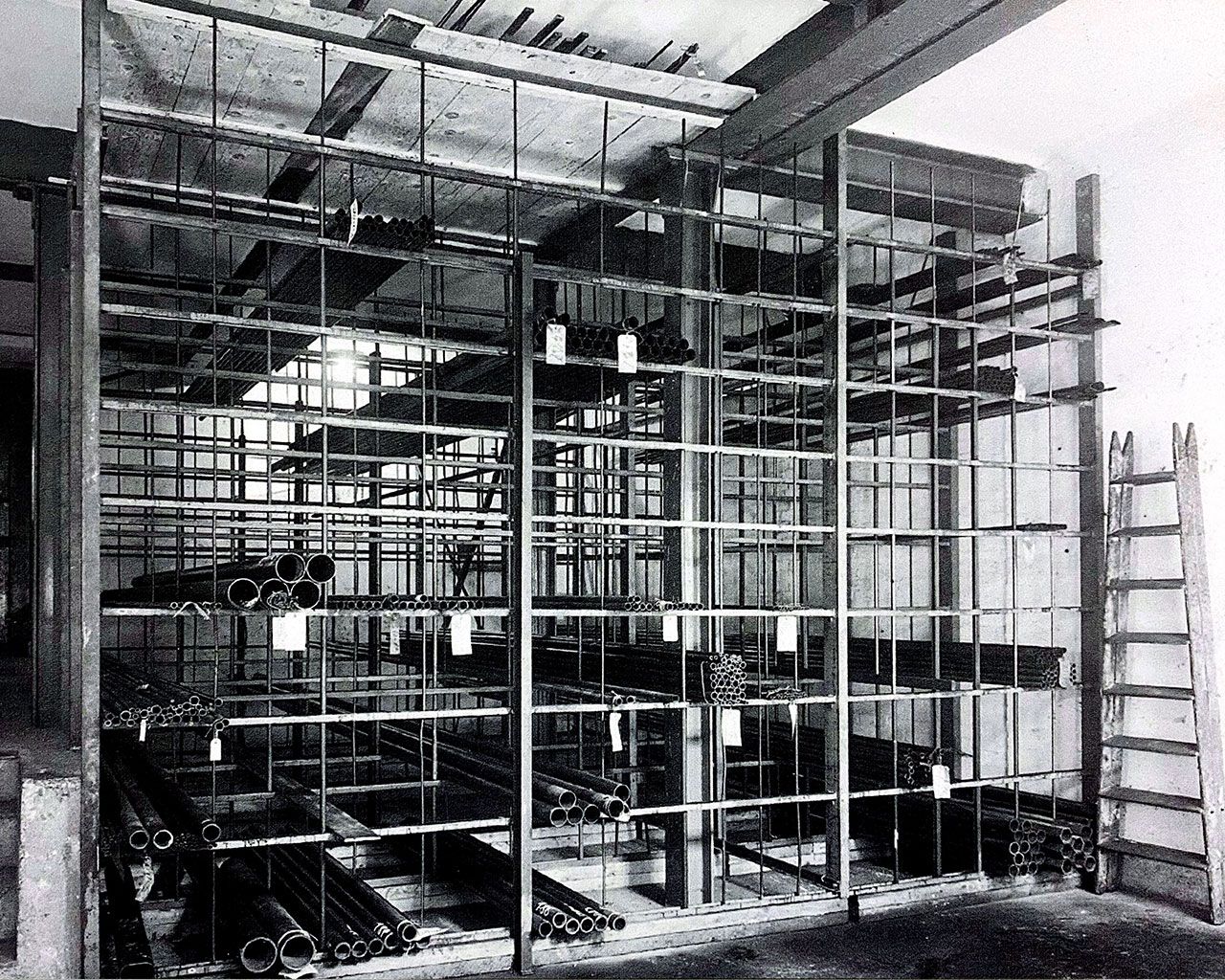 Felix Rüegger, the 2nd son of Gottfried Rüegger-Koch joins the company. Instead of the scattered warehouses Löwenstrasse/Gessneralle, Sihlquai and Limmatstrasse, the "Rautihof" is built as a central warehouse for steel tubes in Zürich-Albisrieden.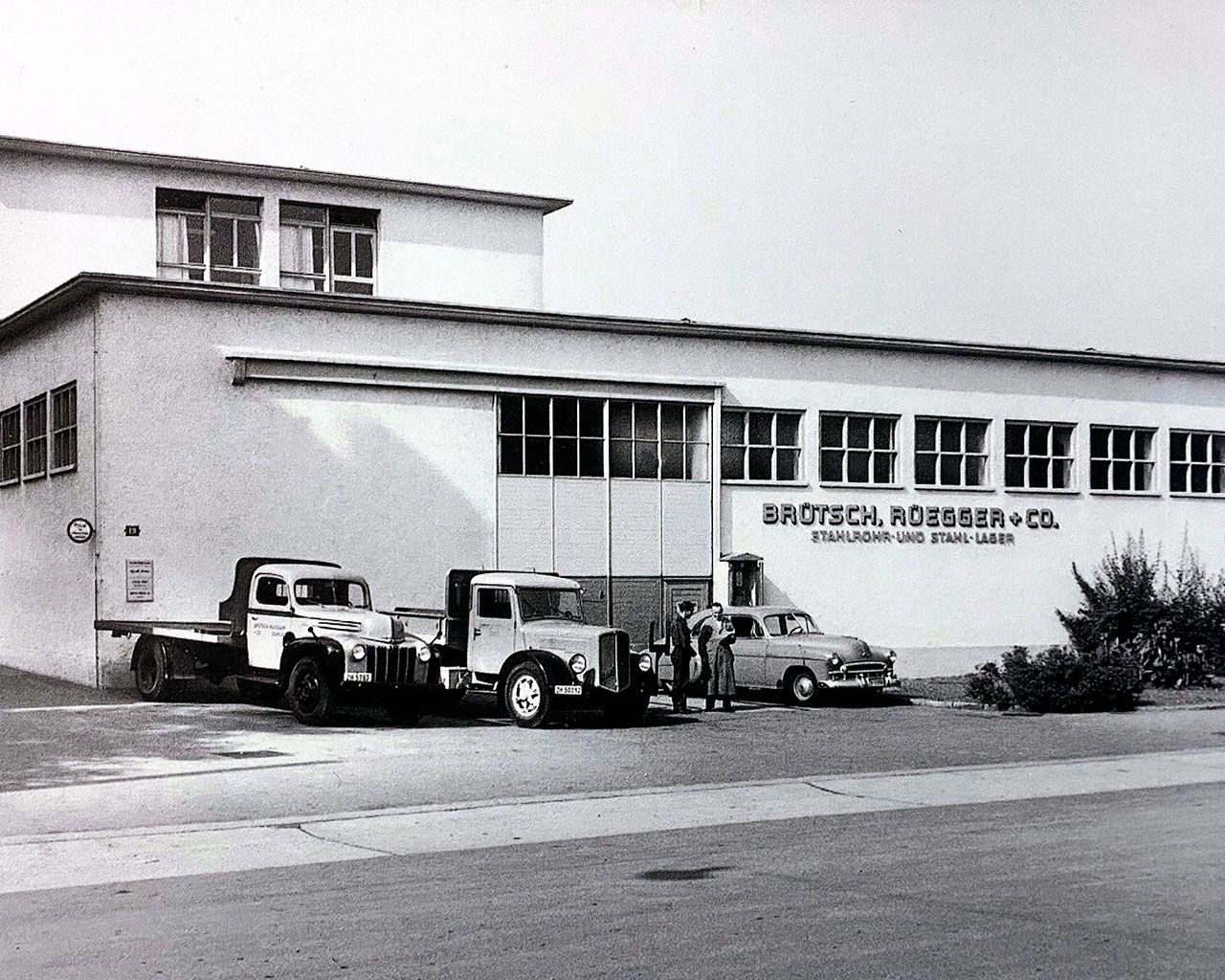 75 years of Brütsch, Rüegger + Co. In addition to the patronal pension fund already established in 1940, today's personnel foundation is founded.
The post-war period brought the Swiss economy, which had remained intact, opportunities for development that could hardly have been imagined before. Thus, even user Stahlrohrlager Rautihof became too cramped and therefore not efficient enough. Julius Rüegger therefore set out to find a suitable site with a railway siding in the surrounding conurbation communities and spent months examining a wide range of possibilities.
Purchase of the land for planned warehouses at Regensdorf railroad station, where the site for the warehouses is still located today.
The tool area übernnahm the empty warehouse space at Rautistrasse 19 and now also ügige warehouse space.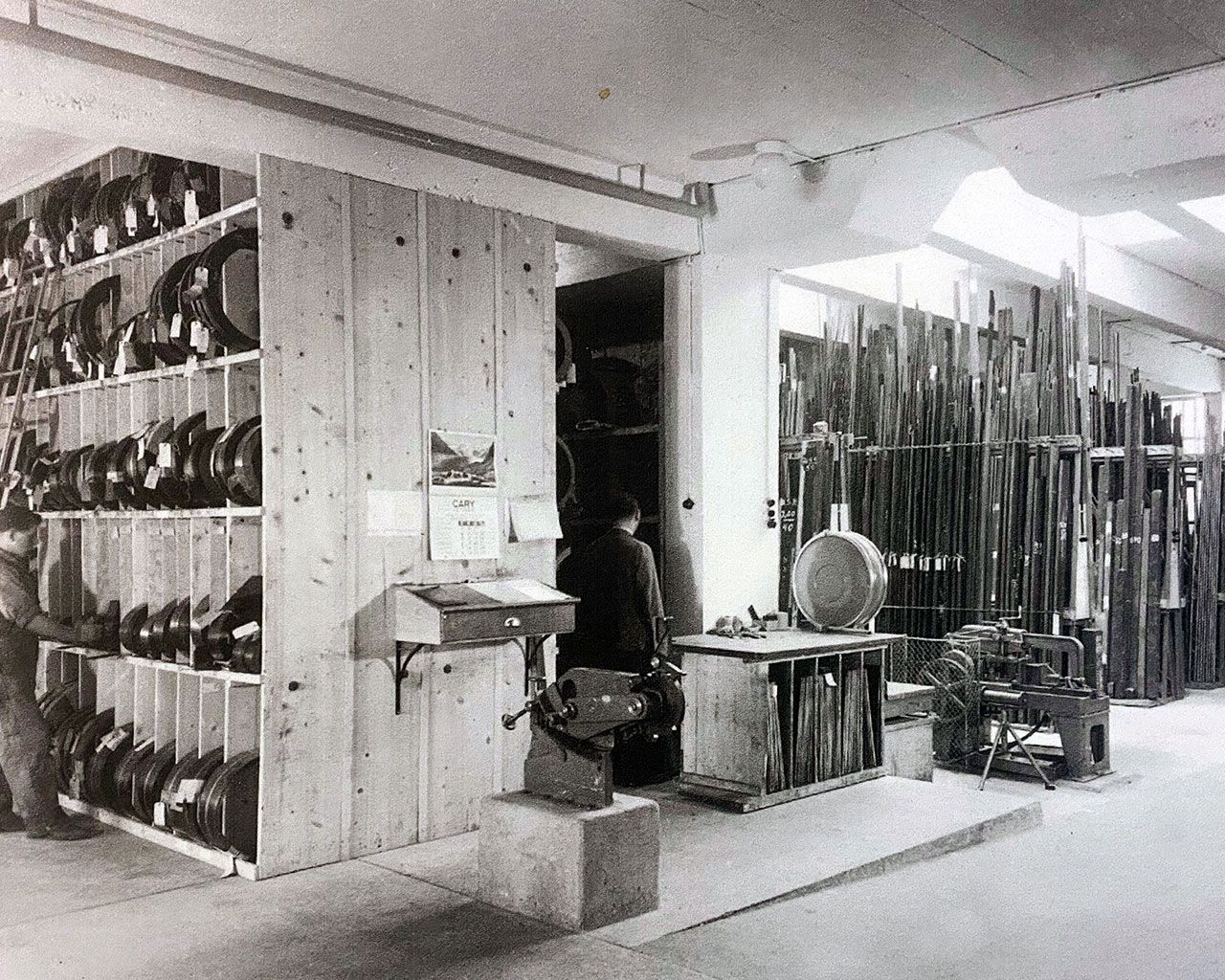 Margarete Rüegger-Koch retires from the company. The descendants Julius, Felix and Margrit Rüegger become partners in the third generation.
The company now has about 120 employees. This brings organizational and structuring problems that we are solving step by step. The transition from a patronal to a participative management style is taking place.
Gottfried Rüegger-Koch dies at the age of 80.
The spatial constriction in the office buildings at Löwenstrasse 53/Gessnerallee 36 is becoming increasingly difficult. A modern office building is built as the company headquarters at Limmatstrasse 48/50 in place of the old properties. Felix Rüegger hands over the management of the tool division to Kurt Brunschweiler.
Removal of the Bürogebäudes Limmatstrasse 48 and entry of Edwin Baumgartner-Brütsch (son-in-law of the partner Ernst Brütsch).
Edwin Baumgartner-Brütsch becomes a partner. He takes over responsibility for finance from Margrit Rüegger. As a consequence of the global economic crisis, Brütsch/Rüegger & Co. also feels the effects of the worldwide recession.
Julius Rüegger hands over management responsibility of the steel drilling division to Bruno Eichholzer.
100 years of Brütsch, Rüegger & Co. consolidation of offices and warehouse of the tool division at Rautistrasse in Zurich-Albisrieden.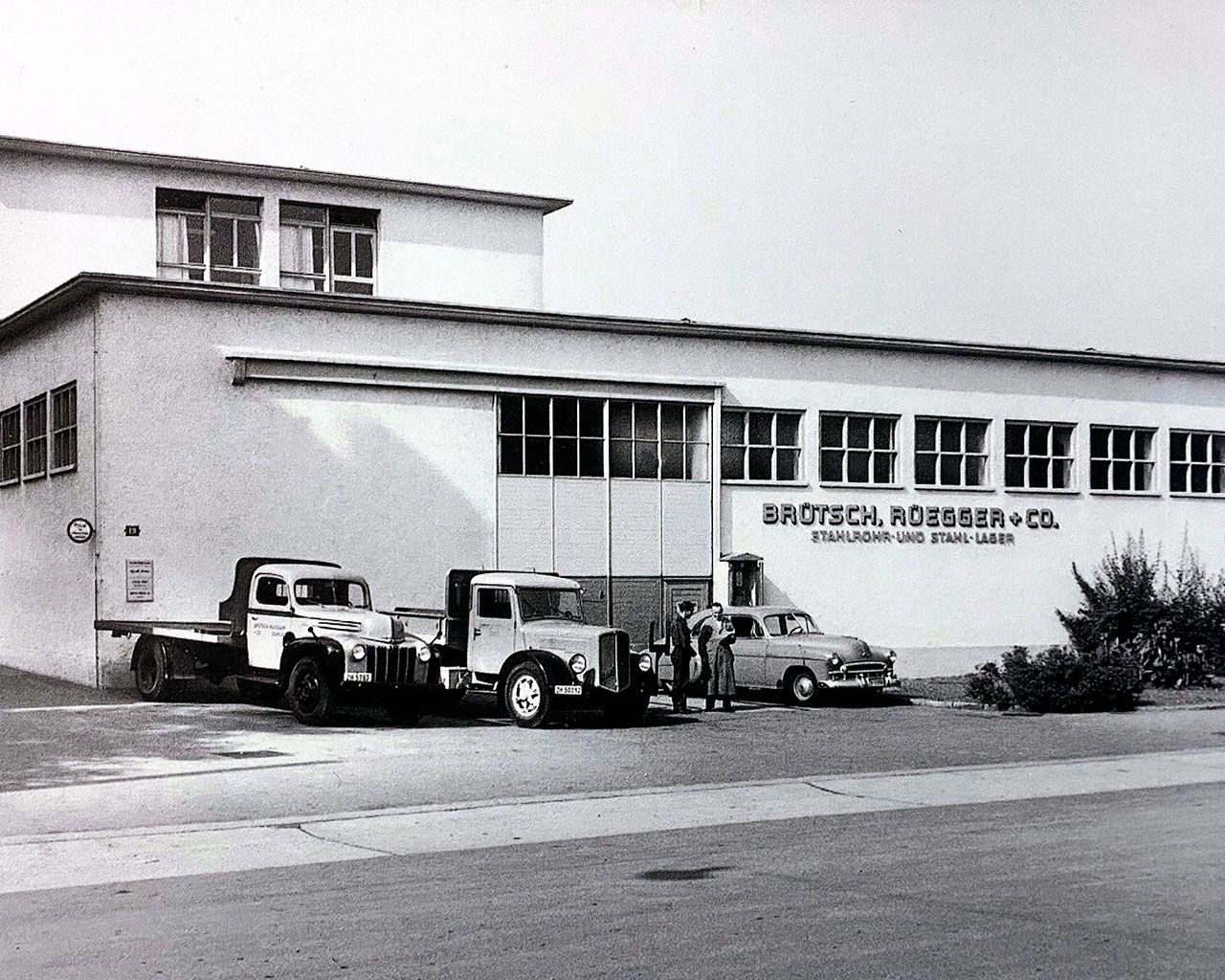 For the first time in the company's history, revenue from the sale of tools exceeds that from the sale of steel tubes.
For the first time in our history, employees are appointed directors, namely Kurt Brunschweiler as head of the Tool Division and Bruno Eichholzer as head of the Steel Pipe Division.
Change from a general partnership to a stock corporation. The former partners take a seat on the board of directors. Introduction of the EDP in the tooling area.
Acquisition of a 6851 m2 plot of land in Urdorf with favourable transport connections.
111 years of Brütsch/Rüegger. Construction approval is given for the tool center in Urdorf.
Total sales exceed the 100 million mark for the first time. After 51 years of dedicated service, Magrit Rüegger steps down from her position on the Board of Directors.
The tool division is moving from Rautistrasse in Zürich-Albisrieden to Urdorf in the newly built tool center.
Werner Fischer becomes a director and succeeds Bruno Eichholzer as head of the Steel Tubes Division. Julius Rüegger ühands over the Vice Presidency of the Board of Directors to Kurt Brunschweiler, who joins the Board as a new member. Kurt Brunschweiler will also become Chairman of the Board of Management.
The global recession in the wake of the Gulf War continues. The enormous uncertainty in the steel market, major reshuffles at producers, mergers and closures are causing concern. After 62 years of dedicated service to the company, Ernst Brütsch steps down from his position on the Board of Directors.
On January 1, Ueli Hofstetter takes over the management of the Tool Division from Kurt Brunschweiler. On June 26, Ernst Brütsch died. In the third year of recession, sales fall to the level of 1984 and unemployment in Switzerland rises to over 5%.
A groundbreaking ceremony for a new Büron building for the steel tubes business in Regensdorf. Felix Rüegger retires from the Board of Directors after 47 years of dedicated service. His son-in-law, Hanspeter Kunz-Rüegger, will be elected to the Board of Directors in his place.
The new Bürone building in Regensdorf is occupied by the employees of the Steel Tubes division. The employees of the Finance Division move into the Büros in the Tool Center and the company headquarters are relocated from Zürich to Urdorf.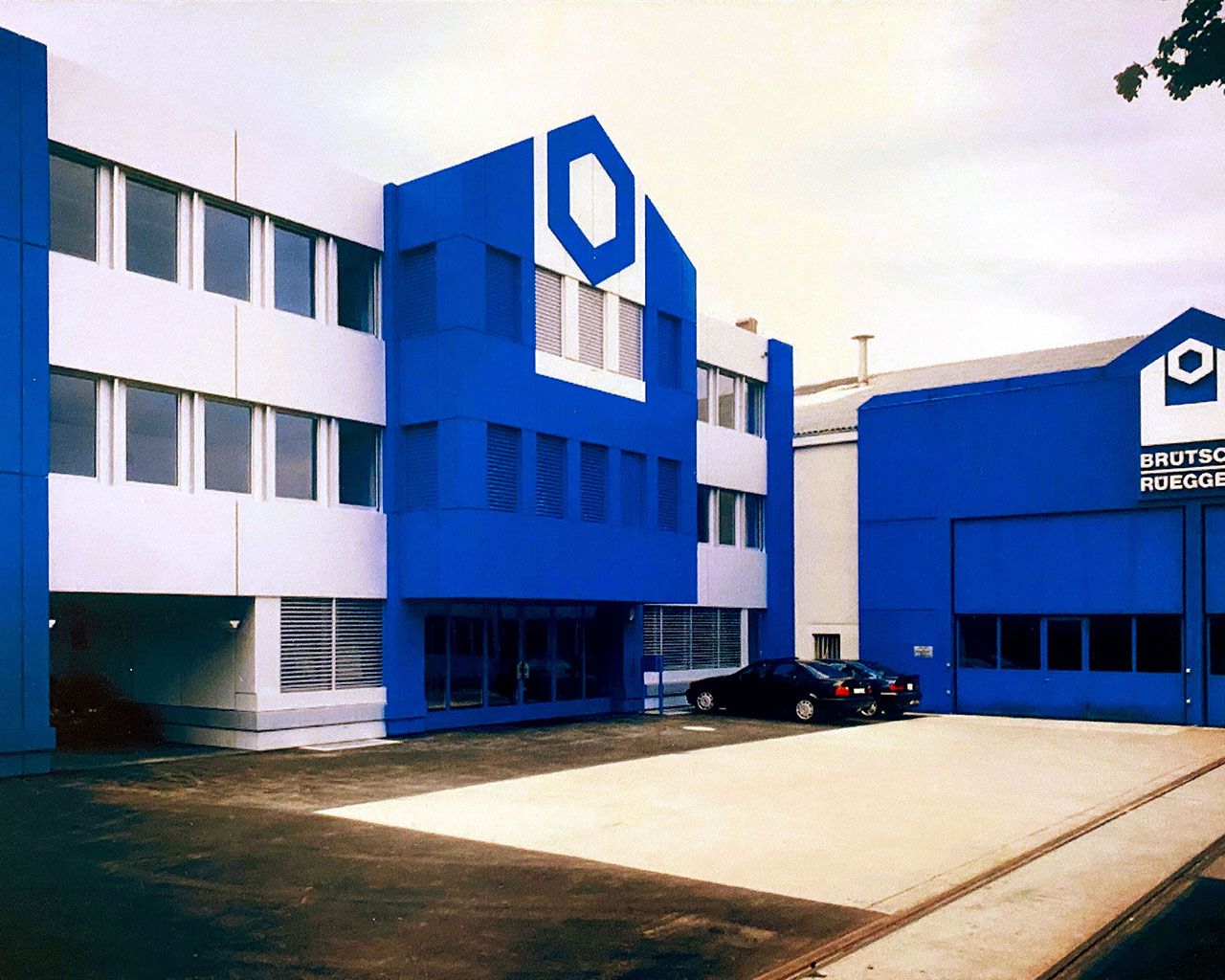 Roger Klee-Baumgarten, son-in-law of Edwin Baumgartner-Brütsch, is elected to the Board of Directors. Christian Rüegger, a son of Julius Rüegger, joins the company.
120 years of Brütsch/Rüegger AG. Peter Dietze takes over from Werner Fischer as Head of the Steel Tubes Division. Julius Rüegger steps down as a member of the Board of Directors and joins the Advisory Board. Werner Fischer and Dr. Felix Egli were elected to the Board of Directors. The Tools division expands its range of standard parts for toolmaking through an acquisition and a fourth product group is created.
Ueli Hofstetter becomes Chairman of the Business Performance. The Tools division launches its own brand "FUTURO" and the virtual shopping cart "TOOLSHOP" on the Internet. After 9 years of dedicated collaboration, err Jürg Dellagiacoma resigns from his position on the Board of Directors.
Ueli Hofstetter becomes a member of the Board of Directors. Christian Rüegger ütakes over as Head of Finance from Edwin Baumgartner-Brütsch, who  continues to serve as Chairman of the Board of Directors. A profit-sharing system for all employees is introduced.
The best result in the company's history to date is achieved with a 17% increase in sales. Due to the newly introduced profit-sharing model, all employees benefit from this.
Kurt Brunschweiler, an exceptionally deserving leader in the Brütsch/Rüegger company, is retiring from the Board of Directors at the age of 70. The IT system, which is now more than 15 years old, will be replaced by i/2 from Polynorm as part of a major project at the end of the year.
125 years Brütsch/Rüegger AG.